¡Viva la Fiesta!

This time of year always makes me homesick and melancholy for my homeland in northern New Mexico.
The Santa Fe Fiesta
marks the beginning of fall and winter, two of the most wonderful seasons (like spring and summer aren't awesome!) in the Land of Enchantment. The night air has just a slight hint of a chill. The mountain aspens, birch, maple, oak, piñon and elm trees, all burst into those glorious colors of fireworks. The smell of burning piñon in fireplaces fills the night and early morning air. All in preparation for the upcoming winter snows.
The Santa Fe Fiesta is the most impressive celebrations of all that occur in this area. A week long event that explodes every autumn in Old Santa Fe, "The sound generates a curious blend of thanksgiving, revelry and pride in the hearts of Santa Feans who celebrate Fiesta annually to commemorate Don Diego De Vargas' peaceful reoccupation of the City of Holy Faith in 1692. The historic capital is one of the oldest in the United States. It was established by Don Juan de Oñate at the foot of the Sangre de Cristo Mountains where Santa Fe was founded in 1610."
This party starts on Tuesday the 8th of September with Fiestecita, a big bash to eat & drink in celebration of this kick off and continuing thru the week with entertainment, arts and crafts, food booths, a pet parade and a fashion show. But the wildest "show" of all happens towards the end of the week. It is the burning of
Old Man Gloom
, Zozobra.
Since 1926, this ghoulish looking paper-mâché-like 50 foot giant has gone up in flames and "centers around the ritual burning in effigy of Old Man Gloom to dispel the hardships and travails of the past year." Along with the burning of Zozobra, burn all our troubles and despairs for another whole year.
At dusk, small fires are lit in front of Zozobra and then the Fire Spirit Dancer dressed red appears, along with children dressed in white called "glooms." The Fire Spirit Dancer starts dancing and jumping around wanting to scare off the glooms. The crowd cheers. And finally, Old Man Gloom is set on fire. He moans and groans and moves his arms about. The sky fills with fireworks and as Zozobra melts into ashes, the crowd roars, "Viva La Fiesta!"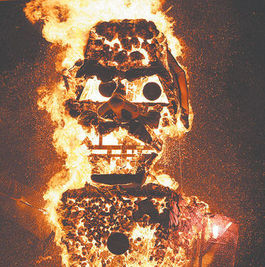 I hope you enjoyed this little "journey" to Santa Fe & maybe inspires you to make
the trip next year to Fiesta de Santa Fe!
Until next time......

GOOD HEALTH TO ALL!